Registering for Initial Public Offering (IPO) is at the top of every business-owner's dreams. It is said to be one of the important events in the life of a company. Becoming an IPO-registered business means that you are opening the company to the public, which is also termed as "going public." It is the first time that company owners will sell a part of their ownership to stockholders and later trade in the stock market exchange.
Being an IPO company enables your business to have more capital for massive expansion. It gives founders or owners enough cash in return of all the hard work that they have put in — also considered as a payback period. It also attracts and benefits top employees of the company as you can offer stock options.
Excited to know how you can prepare your company to become a publicly-listed company?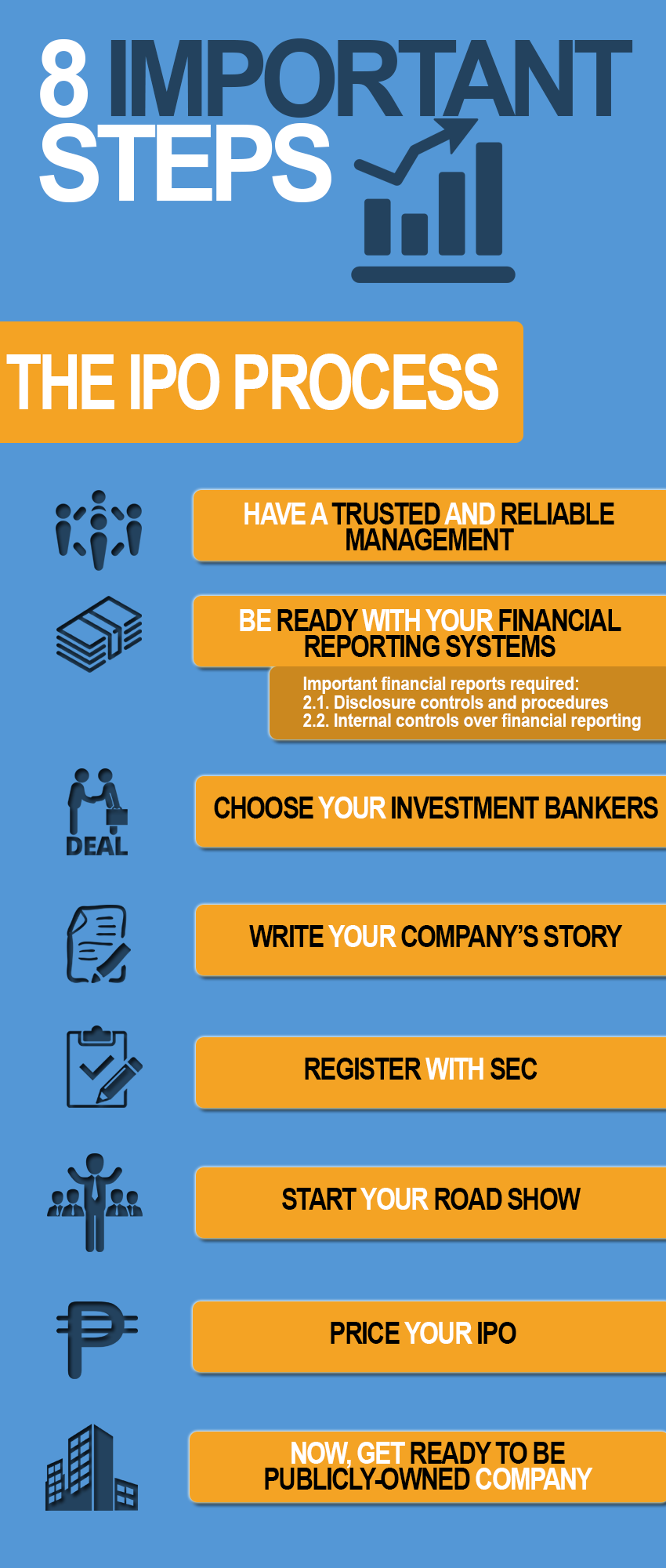 Here are 8 important steps in the IPO process:
1. Have a trusted and reliable management team
Going public requires greater demands following the complexity of the process. Thus, putting the right people to maneuver the process will help a lot. They must possess strong communication skills to handle investors or SEC queries and be able to clearly present the company's vision and plans.
2. Be ready with your financial reporting systems
Important financial reports required:
2.1. disclosure controls and procedures
2.2. internal controls over financial reporting
Once the company goes public it requires a thorough disclosure of the financial health of the company thereby adopting more complex financial and accounting requirements. The company must have a credible system in place to ensure all data are recorded in a timely and accurate manner.
3. Choose your investment bankers
Investment bankers or the "underwriters" play an important role in the IPO process. They look for and approach potential investors. They act as the sales guy offering to buy shares for the company. Thus, characteristics of your ideal investment banker include sales and distribution capabilities and strong analyst coverage. Some of the known biggest underwriters are Goldman Sachs, Credit Suisse First Boston and Morgan Stanley.
4. Write your company's story
Writing your company's story or overview of the business enables your prospect investors to see the objectives of the company. Your story must present your company's goal, mission and vision – emphasizing its strengths, greater market opportunity, and why your company will be a good investment in the long run.
5. Register with SEC
Next step would be to present the final company story as well as the prospectus to SEC for registration and review process. Initial prospectus contains all information about the company except for the offer price and date, which are not shown yet. Normally, the registration takes more than a month.
6. Start your road show
Once your company has complied with SEC's comments and recommendations, then you may now proceed to meeting your prospective investors. You must travel and attend a lot of meetings, press conferences (if your budget allows), city/area visits to introduce your company and the merits of investing in it. This is also considered as your marketing venue to attract more investors.
7. Price your IPO
After completing the review process and generating a list for possible IPO investors, the company's board of directors and underwriters agree on a value to which the company sets a price per share of stock.
8. Now, get ready to be publicly-owned company
Nothing is more exciting than going public. After pricing, the IPO normally close on the 4th business day. Issuer and selling stockholders will issue the shares to the underwriters, and the underwriters will buy those shares at a 7 percent discount more or less. Issuers will still undergo SEC quiet period for 25 days following the pricing. This period gives broker-dealers time to approach and deliver IPO sales materials to investors.