Manufacturing and courier companies have to pick, pack, and ship a large number of orders every day. Their warehouse operations and workflow must be efficient and their fulfilment process must be accurate for these orders to successfully reach their customers.
But with the many different stages they are involved in the packing and shipping of products, it can be difficult to maintain a steady workflow.
At any one time, companies may be processing hundreds of orders and this can easily become too much to handle, even for larger businesses with more warehouse employees.
Efficiency at every stage of the fulfilment process is key to the success of any manufacturing or courier business. Items need to be stored, picked, packed, and shipped within good time to ensure customer satisfaction remains high.
High customer satisfaction means increased customer loyalty, better company reputation, and more success for the business.
If order fulfillment is a key part of your business, improving the accuracy and efficiency of your packing and shipment processes can significantly increase your growth and success.
Here are some top tips to boost your performance and operational efficiency so that your shipping fulfilment services are seamless from start to finish.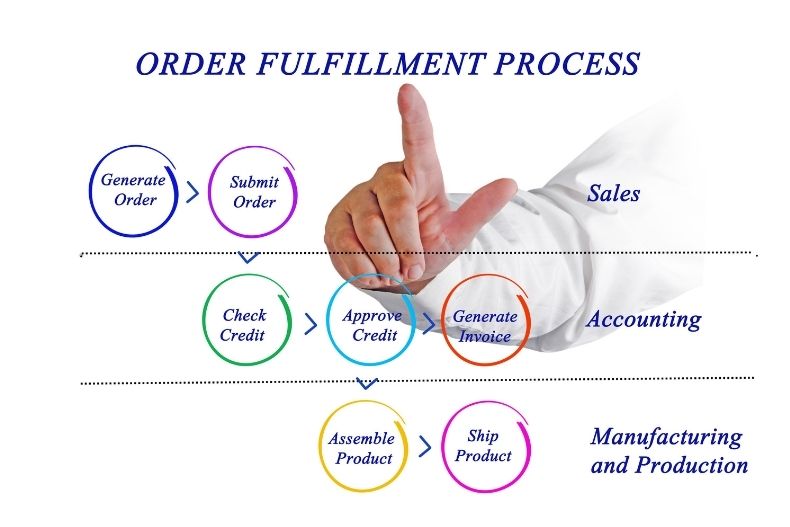 Optimize and Organize Your Space
One of the easiest, yet most effective ways to improve the accuracy and efficiency of your fulfillment process is to optimize the space that you already have.
If you rent a warehouse, you are paying for every square foot of property that you use. If you own the warehouse, you're still spending money every day keeping it well-lit and clean. So, you need to maximize the use of every possible space in your warehouse.
Your warehouse space can easily be optimized using the right storage solutions. For example, you can use taller storage units and high warehouse shelving to hold more products if it is safe to do so. This means you can hold more product with the space that you already have without needing to pay for warehouse expansion.
Keeping your warehouse organized makes it much easier for your warehouse operators to navigate to the right products when they are picking and packing orders for shipment. This can decrease the fulfillment time of each order and massively boosts efficiency.
A tidy warehouse is a safer warehouse. Keeping everything in its place reduces the risk of accidents and injuries. Your warehouse operators can work efficiently without getting slowed down by clutter.
Use Inventory Management Software
Inventory management software can transform your whole business. No matter how small or large your company is, if you sell products, you will need a system to keep track of the amount of stock you have.
An inventory management system is an advanced piece of technology that enables you to automate a large range of your warehouse tasks.
Automation is the key to maximizing efficiency and accuracy without increasing labor or storage costs. It removes the need for human intervention on a range of tasks, which removes the potential for human error or delays in your fulfillment process.
Your software can be used to track every single one of your products from the moment it enters your warehouse to the moment it is delivered to your customer's door. You can monitor the flow of your inventory in a simple and efficient manner.
Your warehouse operators can also use this software to find the right products when fulfilling an order. It reduces the time they spend searching for products in your warehouse by pointing them in the right direction.
Reduce Errors in Your Shipment Process
If you have a poorly managed shipment process, it can significantly increase the risk of errors.
Failure to fix poor shipping procedures can lead to the loss of raw materials, products, and money. Arranging with returns, organizing refunds or exchanges, or dealing with lost packages coat your employees a lot of time. And that has a direct effect on your profits as a company.
Consistent problems with your shipments can result in customer dissatisfaction and this may affect your brand reputation and growth.
By implementing a strategic shipping process, you can reduce errors and minimize any associated expenses, so that your company can maintain a great reputation.
Continuously Monitor Your Progress
As a business, you will already know how important it is to constantly monitor your success. You may already track your sales and expenses closely, but are you also monitoring your fulfillment efficiency?
Spend some time each month looking closely at your fulfillment operations. Consider what has been successful and what aspects of your process you might need to adjust in order to meet your business goals. Look at each stage of your picking, packing, and shipping procedures individually and also as a collective.
Monitoring your progress can involve looking at the number of sales, returns, customer complaints, or lost and damaged packages. Consider the length of time it takes on average from the picking stage to the shipment stage of your orders.
If you're not happy with the results, it might be due to a lack of accuracy and efficiency in your fulfillment operations. In this case, you'll need to adjust and adapt your current system to meet your business goals.
Regularly reviewing each stage of your packing and shipment process enables you to identify the key areas for improvement. The weaker areas may be due to lack of resources, outdated technology, or poor organization in your warehouse.
Once you've figured out the reason for the potential weak spots in your warehouse, you can start to find ways to overcome these challenges. You can resolve significant problems and eliminate unnecessary or unhelpful practices within your business to drive growth and profits.