Organizing your first business conference is a huge undertaking. You will need to employ a qualified team, decide on a theme for the conference, find a suitable venue, schedule a date and find speakers to take part in your event. Planning should commence at least six to eight months in advance and you will need to follow strategic steps to facilitate the whole planning process.
Here are some practical and effective steps to take to organize your first business conference.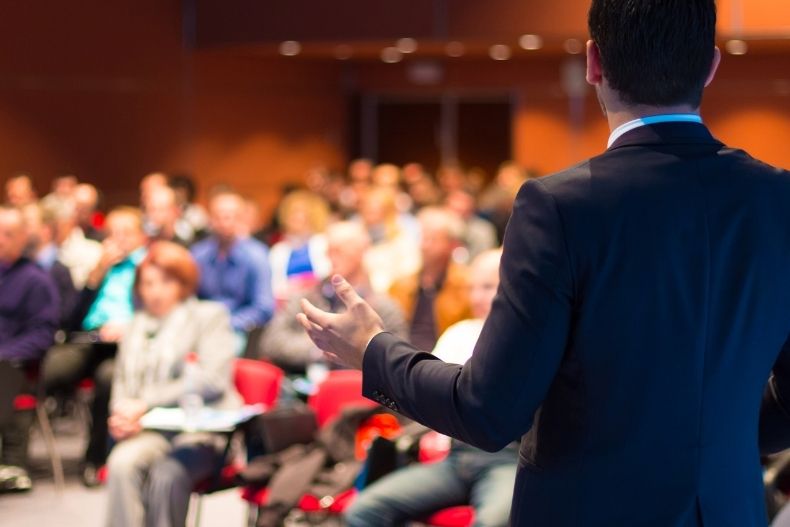 Decide on a Theme
Obviously, a business conference will focus on business however, you could place emphasis on a specific facet of business such as business growth or social media marketing. You could also consider holding a conference on health and wellness for entrepreneurs.
Deciding on a theme will facilitate your marketing efforts because it allows you to laser target a specific demographic.
Calculate Your Budget
Organizing a business conference without fixing a budget is a very inefficient way of planning a conference. You need to decide on your budget and try your best to stick to it. Some of the costs you might want to consider are a venue, food and refreshments, staff, marketing, speaker fees and production costs.
You can certainly cut costs in areas such as staff by employing volunteers or talented interns, this will drastically reduce your overall output.
Date and Venue
Once you are clear on the budget, you can choose a date and pick a venue. The venue you choose should fit into your overall budget, if it doesn't you might need to negotiate the venue cost, cut corners elsewhere or choose another venue. When choosing a venue, consider the location, parking, the venue capacity and the general layout of the event space.
Remember that some event spaces have limited furniture so you might have to hire some or purchase some. It's quite simple to find good quality conference furniture, a quick Google search such as, "conference tables for sale" will provide you with the relevant results to purchase your conference furniture.
Book Speakers
A conference wouldn't be a conference without speakers therefore, you should aim to book them as soon as your venue booking is confirmed. Research your target audience and find speakers that would resonate with your target demographic. You can either research online or social media to find speakers or you could utilize the services of a professional speaker agency to find the best speakers for your event.
Book Vendors
You are going to need food vendors, book vendors and other vendors that fit the theme of your conference. These should be booked well in advance too, an effective and low-cost way of booking vendors is to utilize the power of social media advertising, video posts and by searching for the type of vendors you need for your conference.
Get Sponsors
Sponsors drastically increase the overall revenue of conference events, without sponsors your profit margins would be relatively low.
You need sponsors that fit your target demographic. For example, if your business conference theme focuses on business growth, you need to look at sponsors that fall into that niche. Large marketing firms that offer affordable marketing services for small and medium-sized businesses. Also, social media management companies, scheduling apps, project management tools, the list is endless.
If you are focusing on social media marketing or online businesses, look into requesting sponsorship from brands that offer online business tools such as Kartra and Aweber. Small business bureaus and local government organizations might also be willing to sponsor your event.
Marketing
Once you have booked your venue, line up the speakers, vendors and sponsors. Start promoting your event. Create a cost-effective marketing plan to fit into your budget and start executing your plan.
The Internet is a powerful tool for marketing your event therefore, you should be considering online advertising, social media marketing using video, written content and maybe social media influencers.
Also, consider offline marketing, create posters and flyers and strategically place them in co-working spaces, coffee shops and local libraries. The venue will also partner with you to execute some offline and online marketing strategies.
Consider giving away free tickets to well-known business influencers to create a buzz and to add some extra clout to your event.
Press
Press does fall in line with marketing however, you do need a very clear and targeted press strategy to ensure you get the right amount of press coverage in relevant publications. Contact business bloggers, online magazines and local print publications that might be willing to cover your event.
You want press coverage on the day and you also want coverage about the event prior to the fixed date. One effective way of building a buzz is to tie the event to a social impact cause.
For example, offering to donate some of the profits to an organization that supports small businesses or low-income female entrepreneurs. Statistically, events that connect with a charitable cause are more successful than those that choose not to connect to a social impact initiative.
Execute
The only thing left to do now is execute, the day of the event is here, brief your team and take the necessary steps to ensure that everything goes according to plan. You should also have contingency plan in place just in case something goes wrong on the day, events rarely occur without some mishaps therefore, be prepared for this.
Planning and organizing a business conference doesn't have to be stressful, follow this simple planning timeline to plan and execute your first business conference with less overwhelm and more action and productivity.
Once you have a clear idea of your conference theme and target demographic this will facilitate the planning process making the whole experience less overwhelming and more manageable.
The most important things to consider are fixing a realistic budget, deciding on a suitable venue, booking the relevant speakers, finding sponsorship, and executing an efficient and effective marketing strategy to increase your chances of having a successful business conference event.