After clearly identifying your aims and objectives, there are several things worth considering to maximise your reach. You may think you can take it easy because it's a smaller venue so naturally it will be easier to be seen. However, this complacency can get you underachieving.
When the venue is smaller, you want to ensure you do even more to make an impact and engage your audience. First and foremost, having a winning customised exhibition stand will be the foundation to your success.
If you haven't already, it's worth considering custom exhibition stand services across the UK. This way you can shape your stand to reflect your brand and communicate the right message.
For now though, your exhibition is just around the corner and you need to put in place some top tips to help you stand out.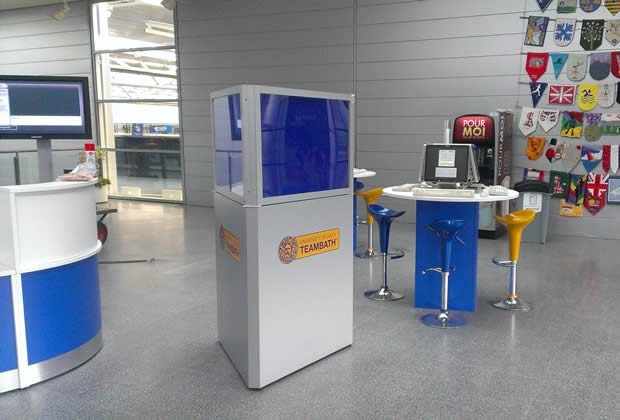 TOP TIPS WHEN EXHIBITING IN SMALL VENUES
First and foremost, you want to ensure your marketing messages and promotional materials are strong. These are important for

sales generations

and building on potential leads.

Create a space that facilitates face-to-face contact and helps people feel relaxed. The more welcome they feel, the longer they will stay with you.

Utilise the space well. Even though space may be tight, you still want to make the most of what you have. This means employing experienced stand designers to help you build something with impact that accommodates to your venue. This way you can really make use of every inch without going overboard.

Ensuring you have a follow-up plan in place will help you nurture the leads and build future relationships.
Consider what décor, tech, and furnishings your space can have.
Another important element will be creating a list well in advance of what additional elements you need to be added to your booth to build impact. This might be anything from comfy chairs to branded images on screens. When you don't have a lot of room, you will want to minimise bulky elements and keep things simple. Overcomplicating things can make your stand look messy and overcrowded.
This will never be welcoming and do the opposite of creating an epic impact. This means having your logistics in place well before the event date is crucial. Therefore, you will want to consider elements such as:
Setting up the stands

When you arrive and depart from the exhibition venue

Which equipment you will need and at what times

What networking events need to be planned beforehand

How to manage time effectively

Dismantling the stands, furniture, and décor
Choose designs that are made for smaller spaces.
Make use of pop up displays and tabletop banners. Anything that you can do to use space effectively will really help. So, you want to look for multipurpose furniture and displays that are cleverly designed to fit neatly into small spaces.