While we all know the fact that health is wealth, it is ironic to note that markets which provide healthier options are hard to find. Healthy living might be considered as a fad for some, but it is actually something that each of us should integrate in our lives.
This weekend, Modus Vivendi Events, together with Robinson's Galleria will bring us the first-ever healthy lifestyle fair which aims to support local home-based vendors who hand over organic and wholesome products, all deem to be healthier and more sustainable.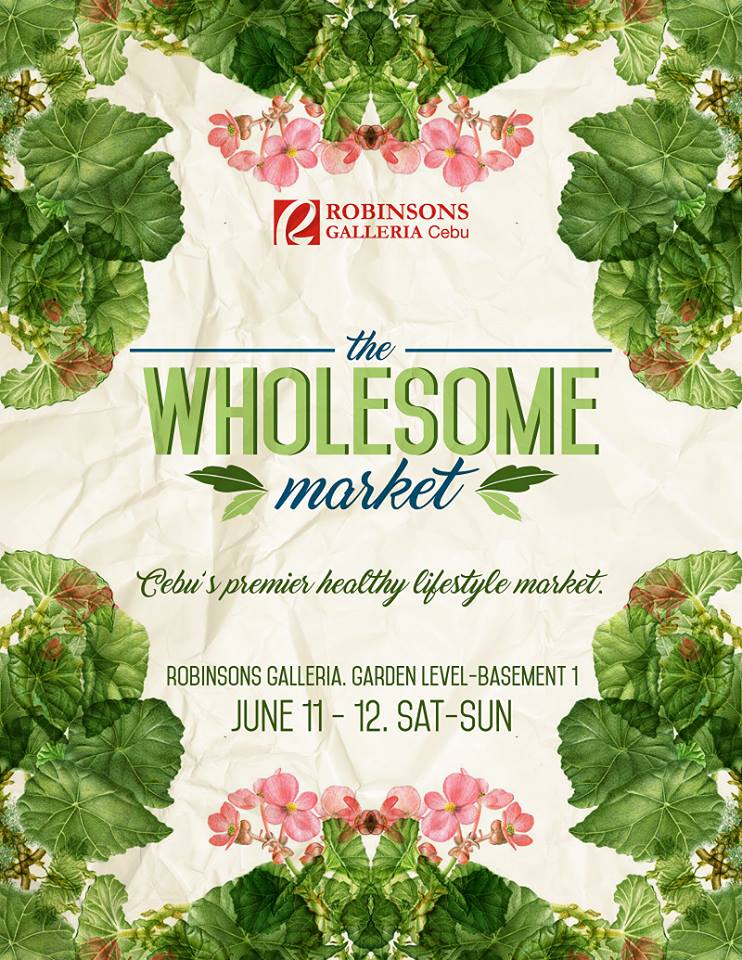 Labelled as THE WHOLESOME MARKET, the two-day market will set out this Saturday at the upper deck of Robinson's Galleria Cebu. The event will take place on June 11-12, 2016 and will be open from 10AM to 9PM.
Event organizers will bring us 15 chosen vendors, all are advocates of wholesome living. The organizers also made sure that anyone who visits the market won't get bored as they have carefully curated a perfect lineup of vendors. Each are expected to bring something literally fresh to the table. From products good for the soul to beverages good for the body and heart, each vendors are persistent to bring us clarity of mind.
being healthy is not about eating less, it is about eating better.
The Wholesome Market is not limited to the buying and selling of greener products. It also aims to give everyone the chance to interact and be involved in the promotion of having a better lifestyle; not only for themselves, but also for the rest of the world.
To realize their goals, the organizers bring on free consultations to be led by holistic cleansing expert and dietician to help everyone maintain proper health and nutrition. Most importantly, being healthy is not about eating less, it is about eating better.
A FREE yoga class conducted by Yoga108 together with special guests Anne Dala and Claire Yap will take place on Sunday, June 12, starting from 10:30 am. So don't forget your yoga mats. A capoeira demonstration will happen as well. A very interactive and fun event definitely awaits everyone who will visit The Wholesome Market.
Don't miss the chance to join the wholesome event. If you are interested, wait no more and contact Hannah at 0917-822-2837 or email natashalilja@gmail.com. Also, don't forget to tag The Wholesome Market in your Instagram photos by following them @wholesomemarketcebu.
For latest updates and more information, LIKE their official Facebook page at http://www.facebook.com/wholesomemarketcebu.