During an interview with Bizceed/Sogyotecho, we asked him more about Twitter's growth, SNS marketing and tips for using Twitter.

On Career Path
I: What kind of career did you have so far?
Sasamoto : In my first job in Recruit Co.,Ltd, I experienced making new things. A lot of people who came from Recruit Co., Ltd frequently started businesses. I also started up a service called "Restaurant Guide" "TABEROGU(食べログ)". But because it was the time when the dot-com bubble burst, I had no choice but to sell the company then. After that I was in charge of MTV Japan for 6 years.
I: What was the basis for your career path
Sasamoto: It was actually influenced by "Information and Media," which some people might think is not related to my career.
When I was in charge of MTV, it was a good opportunity to work for delivery of movie at the same time of spreading broadband. And when I worked for Microsoft company, I was the manager for Asia Pacific region for 2 years in Singapore.
I joined Twitter JAPAN after I established a company in the business of crowdfunding.

Yu Sasamoto's career revolved around "Information and Media". Born in Bangkok, Thailand, he worked in Recruit Co.,Ltd and was put in charge of "My network of house information;住宅情報マイネットワーク" etc. He was also COO of "Creative Link Corporation",and started up "Restaurant Guide". In 2000, he became COO of MTV Japan. In 2007, he joined Microsoft and managed the Asia Pacific region as well as their online services. In 2014, he finally became COO of Twitter Japan. His intensive background helped him in making Twitter grow.
I: Managing "Asia Pacific Area" sounds so broad, how did you cope?
Sasamoto: Exactly, I was in charge of consumer business for a wide area. We know that India is part of Asia, however, local citizens have European mindset. It was a good experience because each country has its own circumstances and purposes of business.
On Japanese culture and Twitter Japan's growth
I: What do you think Twitter's business in Japan?
Sasamoto: Twitter has over 300 million active users per month in the world. And in Japan, it has remarkable growth I guess this is because of good timing when establishing Twitter JAPAN. Japanese people also have a long commute from home to company or school everyday. Another factor that helped is the mobile network in Japan becoming more widespread.
I: Do you mean the nature of Japanese people is more comfortable with Twitter compared to other countries?
Sasamoto: Exactly. Though, it is already 9 years since Twitter was established. However, there are still many possibilities if we compare with other countries.
I guess Japanese and Twitter are compatible because the number of users is increasing even after Twitter has already many users. The young generation especially, they use Twitter a lot so far. However twitter users from 30~ 40 years old are also increasing. So I am confident that this 30~40 years demographic will grow more and more.
I: Has the long commute helped increase Twitter users?
Sasamoto: Almost 80% people use twitter via a mobile network.
As I mentioned, many people have become accustomed to using Twitter while commuting. I think we can conclude the ratio of active users is higher and that the average Twitter user uses Twitter more than 7 hours per month.
I: Do smartphones also boost Twitter usage?
Sasamoto: Yes. Because the Twitter app can be installed in a smartphone and many people use it. There is also a growing trend to watch movies on twitter. We got information that half the number of women in their twenties watch movies while commuting. So the trend is to watch movies online and share tweets on Twitter. In the future, there will be more ways to enjoy twitter than just reading 140-characters.
On growing demand for advertising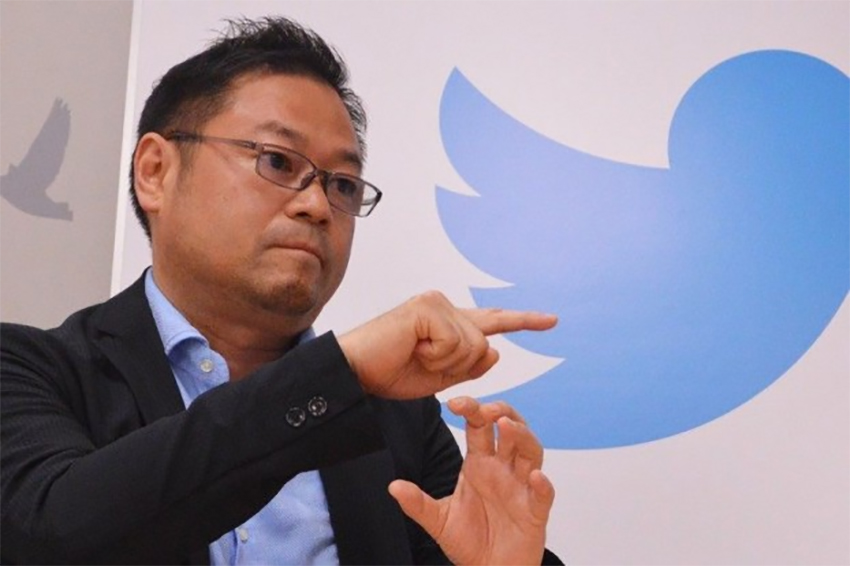 I: How do you plan to monetize Twitter and benefit both user and the company?
Sasamoto: The advertising business is growing remarkably. This is because SNS marketing has become usual way because of expanding recognition of SNS. In addition, Twitter can be used with various media. We can put hashtags on newspapers and advertisements, gather comments using hashtags on TV programs. Many people has also began using Twitter with other media.
I: So does this matter affect twitter's reach and engagement in the results?
Sasamoto: Exactly. I guess Twitter will be recognized as a marketing tool. Tweet has worth because the its data reveals information like personal interests. We can do targeting using the data gathered.
On the importance of online conversations
I: Can you give entrepreneurs ideas of how they can take advantage of Twitter?
Sasamoto: It depends on the type of business. You can use it to promote downloads and increase popularity if you have a game or application business. I think it is effective to combine targeting and advertising things, which can inspire users. It is important to engage in online conversation to get sales.
I: Is Twitter good for o2o?
Sasamoto: Exactly. There was a case wherein one drink product was sold out, which trended on twitter. This case showed there is a correlation between twitter and sales.
So I think "Promo Tweets" is an effective way to advertise services and products to appropriate customers.
I: What is "Promo Tweets"?
Sasamoto: "Promo Tweets" can send tweet to appropriate users via targeting strategy.
Many people often misunderstand that users should get followers to send tweets. However "Promo Tweets" is more effective to expand your reach beyond your own followers. Users can send appropriate tweets based on the interests of customers. You can research more on other ways it can be useful for the entrepreneur.